Apple has unveiled its first smartphones to feature in-built wireless charging.
The iPhone 8 and iPhone 8 Plus also have glass backs and feature faster processors, improved camera sensors and louder speakers than earlier models.
The firm is later expected to unveil a higher-end X model, if an earlier leak proves accurate.
Analysts have predicted it will be the first mainstream handset to be priced above $ 1,000/£1,000.
Apple's previous flagship phones – the iPhone 7 and iPhone 7 Plus – caused controversy by abandoning a traditional headphone socket.
Manufacturer
Handset shipments
Year-on-year change
Market share at end of June
July 2016 – June 2017
Samsung
313.5 million
-3.0%
23.0%
Apple
215.6 million
+0.5%
11.8%
Huawei
152.1 million
+26.4%
11.1%
Oppo
111.2 million
+62.9%
8.1%
Vivo
86.1 million
+60.3%
6.1%
Xiaomi
64.0 million
+2.8%
6.1%
LG
56.0 million
-2.6%
3.8%
Lenovo
51.7 million
-15.2%
3.2%
Source: IDC
"This is 10 years into the iPhone's tenure and with every year that goes by expectations only increase," commented Geoff Blaber from the CCS Insight consultancy.
"There's a huge amount of pressure on Apple, particularly in the context of its competitors having heightened their game.
"So it's got to prove it's still the leader in bringing together all the pieces of hardware, software and services."
The new iPhones coincide with the release of iOS 11 – the latest version of Apple's mobile operating system.
It introduces ARKit – software development tools that make it easier for developers to add augmented reality features to their apps, in which graphics are mixed together with real-world views.
Marketing chief Phil Schiller showed off one app that showed real-time stats about a sports match that could be seen over the action by spectators at a game.
Another demo involved the Machines, a multiplayer robot-battle game that can be played over views of close-by table tops and other surfaces.
The facility will not work on the iPhone 6 or older devices, so may provide a means to convince owners of ageing Apple kit to upgrade.
"When Apple first introduced the iPhone users were unsure about how touchscreens would benefit them, but now we know that they're a great way to use a device," said Brian Blau, a tech industry analyst at Gartner.
"The same thing will happen with augmented reality – it's as important as touch, if not more.
"Developers have new opportunities and I think they will embrace them, but just as with touch it took them years to perfect those experiences, I also think that will also happen with AR."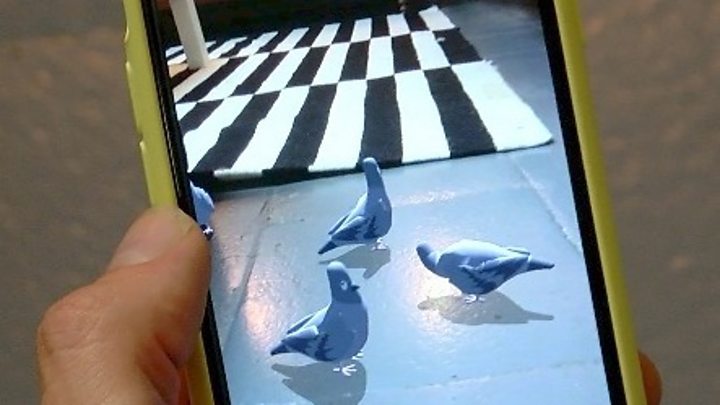 Earlier Apple unveiled a version of its smartwatch with its own 4G link.
The innovation means that the Watch Series 3 can receive phone calls, access internet services and stream music without being linked to an iPhone.
Apple recently overtook Fitbit to become the world's joint-top wearable tech-maker alongside Xiaomi, according to one study.
Other companies – including LG and Samsung – have previously sold smartwatches with in-built cellular capabilities, but battery-life restrictions and other issues limited interest.
"Apple's ability in the past to generate new markets when others thought they were dead is legendary," commented Neil Mawston from the consultancy Strategy Analytics.
"For people like joggers, runners and cyclists who possibly want to do hardcore sports outdoors without carrying two devices, an LTE Apple Watch could be something of a blessing."
The latest version of the Watch's operating system – which will also be available to earlier models – will include new heart monitor functions.
It will warn owners if their heart rate becomes elevated when they are not active or if its rhythm becomes irregular, to flag the possibility of disease.
The 4G Apple Watch will cost $ 399 (£300) and be released on 22 September.
New phones
Apple also announced a fresh version of its TV set-top box, which now supports 4K video and high dynamic range (HDR) content.
It added that it had struck a deal with several of the major movie studios to ensure that films in the higher-resolution, richer-colour formats would not cost more than their high-definition (HD) equivalents.
Users' existing iTunes movie libraries will also be upgraded without charge.
HDR 4K movies have already been available to rent or buy from services including Amazon, but they tended to be sold at much higher prices than lower-quality formats.